Welcome to Econo Lodge City Central Hotel
Econo Lodge City Central Hotel is located in the heart of Auckland City, within walking distance of the SkyCity Casino/Convention Centre, Aotea Convention/Entertainment Centre, Crown Plaza Convention Centre, Civic Theatres, Spark Arena, Water Front, Museums/Art Gallery centres, Universities, and all major public transport centres.
Ideal for the cost conscious traveller, Econo Lodge City Central caters for both business and holiday guests.
Our 24 hour reception provides guests with a range of facilities from business services through to ongoing travel arrangements.
Our in-house cafe is open for breakfast 7 days a week for both hotel guests and casual diners. Charge back facilities are available at a number of popular restaurants located within walking distance for both lunch and dinner.
When travelling for business, our corporate clients can receive savings between 10 and 30% OFF published rack rates. Application for corporate rates is available through our reservations and sales department. We also take group bookings, email or call us for rates.
Make your visit to Auckland one to remember, stay at Econo Lodge City Central's, the centrally located hotel with realistic prices and friendly staff.
Please kindly send us your reservations request by clicking on Reservations Above
We do not charge any credit card fee.
Atrium Car Park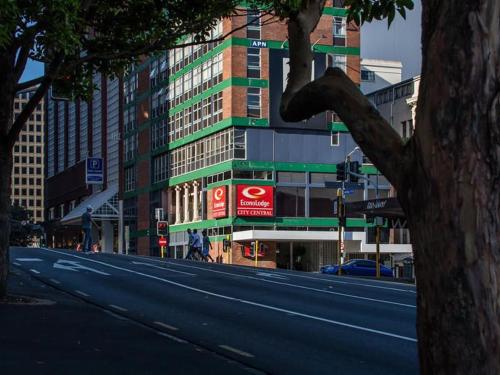 The Hotel does not have its own car park, but has an arrangement with Atrium Car park (next door, drive through the front of Crown Plaza Hotel).
The cost is $21 for 24 hours for one entry and one exit only (no multiple entries) Or $ 11 from 5pm until 10am following morning, one entry and one exit only.
Parking is from the 7th level upwards
Exit from on the 4th floor in the lift through the Crown Plaza Hotel. There is no link between the buildings.
If guest need to take car out during car park closed hours, the night auditor will call parking security to arrange early exit before the guest go to Atrium parking.
Height restriction – 1.9 meters
Due to the City Rail Link construction work in Auckland CBD, loading and unloading in front of the hotel entrance is not available until further notice. This is beyond our control and we do apologise for any inconvenience caused.
You must purchase a parking ticket from reception before you take your car out of the car park.
In order for guest to be well informed prior to their arrival and reservation, all the literature advertising the City Central Hotel clearly states that there are no parking facilities on site.
Hours Operation:
Sunday – Thursday - 6am – Midnight
Friday & Saturday – 6am – 3am
Check In Requirement
All Bookings made via third party website or direct will require a valid ID (Drivers Licence, passport or 18+ Card) and valid credit card upon check in. Guest who do not have valid credit card will be required to pay eftpos or cash deposit of $200.
The bond is fully refundable upon departure,after a room inspection and account clearance.
Effective 1st January 2017